Overview
What is File Viewer Plus?
File Viewer Plus is a file browser, file viewer, and file converter that opens over 400 different types of files. The software has been designed in a way to make it easy to browse, open, edit, save, and convert files of various kinds. When you open the software, the start screen displays three options: Browse Files, Open a File, and Convert Files.
Browse Files
The Browse Files button allows you to explore files on your computer as well as save favorite locations. In addition to the button, you can access the browser by choosing File → Browse files... from the program menu. To read more about file browsing, see the file browsing page.
Open Files
The Open a File button allows you to open any of the 400+ file types that File Viewer Plus supports. When a file is opened, File Viewer Plus intelligently recognizes the format and displays the file. Note: You can drag and drop any file onto the program window to open it.
After opening a file, File Viewer Plus displays one or more ribbon tabs that contain various tools depending on the file type. The ribbon includes a File Info button, which opens the File Information Panel on the left of the document. This panel displays information about the file and is customized for different file types. To show or hide the information panel, click the File Info button. Advanced users can click the Inspect button in the ribbon to view the raw contents of the file in the File Inspector. Multiple files may be opened at the same time, and File Viewer Plus organizes them in file tabs, as shown below.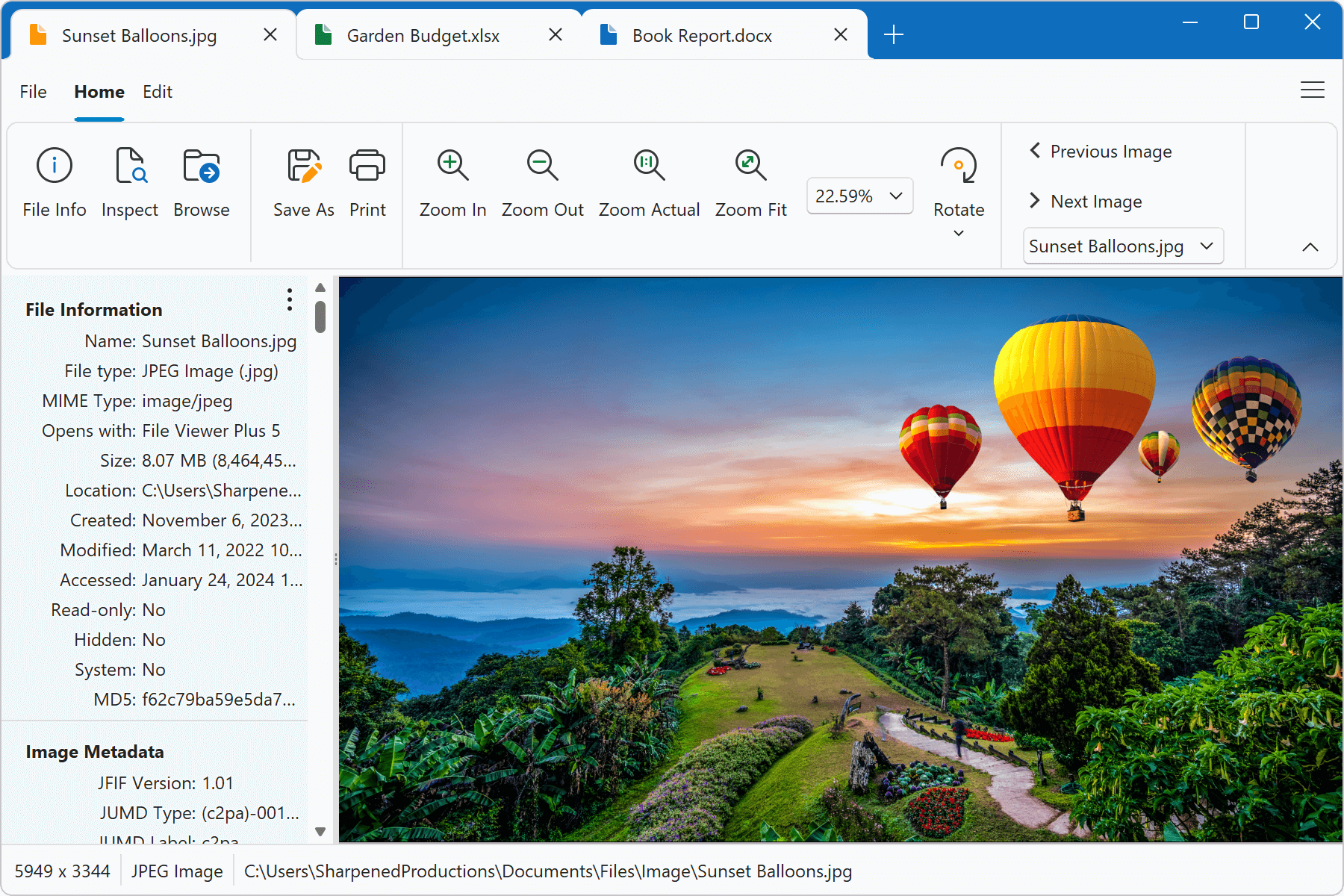 Convert Files
The Convert Files button on the start screen allows you to open the batch converter for converting multiple files at once. See the batch conversion page for more information.
User Interface Themes
File Viewer Plus provides several options to customize the user interface. You can find these options in the settings icon in the upper-right corner of the application.
Compact View - Reduces the ribbon and title bar to create a more compact application view
Dark mode – Changes the application user interface to a darker theme
Color – Changes the color theme to one of various options
Window size – Changes the size of the application window. You can choose from one of the default options or specify a custom size.